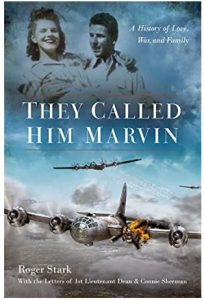 They Called Him Marvin by Roger Stark
They Called Him Marvin: A History of Love, War and Family by Roger Stark
"They were the fathers we never knew, the uncles we never met, the friends who never returned, the heroes we can never repay. They gave us our world. And those simple sounds of freedom we hear today are their voices speaking to us across the years." Bill Clinton
Such a man was 1st Lt Dean Harold Sherman, B-29 Airplane Commander.
"They Called Him Marvin" is a history. A history of war and of family. A history of the collision of the raging politics of a global war, young love, patriotism, sacred family commitments, duty and the horrors and tragedies, the catastrophe that war is.
Review:
They Called Him Marvin by Roger Stark is a merger between American and Japanese events during WWII, and the very human reality of one American pilot and his love letters to his wife.  The candor in their loving correspondence, and the stark reality of war, clash against each other within the pages of this book.  Like the major and minor notes being pulled from an orchestra by a master conductor, history is brought to life and the full impact of war is felt.
I remember watching Tenco many years ago and weeping over the atrocities inflicted on prisoners in Japanese prison of war camps.  The horrors of it stayed with me and I often steer clear of anything to do with war in books or films these days.  However, I am so glad I came across this super book.  The author has met Marv – the son of Dean, whose love letters fill this book, and this brings everything to life, injecting real substance and making this book stand out from a lot of other war stories.  What I loved the most in this 'almost-a-memoir' is the view of the pilots from the Japanese perspective.  The story of Riku and his family is very moving, and I appreciate the accounting of history from both countries, it is thoroughly moving as well as educational.  Bringing the readers focus constantly back to Dean and Connie was an ingenious way to remind us that war involves real people, not just figures on a page.  This story is a beautiful account of a horrific time in history and should be read by everyone… lest we forget.
Roger Stark presents us with a very human experience of WWII.  This is the kind of book that should be on every high school curriculum.  It is awash with facts, but expressed in such a way as to grip the reader and hold their attention.  Packed with historical content, and portrayed with a vibrant pen, They Called Him Marvin by Roger Stark comes very highly recommended by Amazing Family Books.
Buy They Called Him Marvin by Roger Stark today!!